Yup! I've been updated by GOD. Today is my birthday.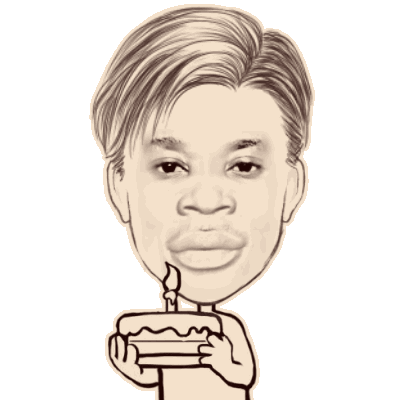 I mark my arrival to earth with these wonderful quotes;
"To keep the heart unwrinkled, to be hopeful, kindly, cheerful, reverent – that is to triumph over old age."
Thomas Bailey Aldrich
"Remember, if you ever need a helping hand, you'll find one at the end of your arm… As you grow older you will discover that you have two hands. One for helping yourself, the other for helping others."
Audrey Hepburn
"Age is not measured by years. Nature does not equally distribute energy. Some people are born old and tired while others are going strong at seventy."
Dorothy Thompson
and finally one of my favorite for today…
"Because time itself is like a spiral, something special happens on your birthday each year: The same energy that God invested in you at birth is present once again."
Menachem Mendel Schneerson
The years spent so far in this world have been amazing. I've smiled, I've laughed, I've screamed, I've cried, I've been down, I've been up and above all I'm grateful to God almighty. I'm grateful for another to be productive and proactive, to share my life and be a blessing to others. It's another year to dream, to live, to enjoy, to share, to celebrate, and to execute whatever left unexecuted in my Life.
I want to appreciate my wonderful family, Mr Christopher Damasus (Super Dad), Kyle and David Damasus – Best brothers in the universe, my wonderful cousins especially Hilda Ikenga. To my personal person Faith Ekabua words fail me, To Jeff, Ima, Ati, and Victor Sparrow, thanks for the support.

Thanks to CCDS and my colleagues for the opportunity given to me to affect lives. I also appreciate Austin Imoru, Vocal walls, and MaryJay for their support in making my blog what it is today.
I'm overwhelmed at the number of good wishes that came my way via the various online services we now enjoy; Thanks to the World Wide Web and the Internet for making remembering people's birthday and sending a greeting much easier. Thanks to Google for also marking my day. LOL
Thank You
Yours Sincerely
Frederick Damasus
Email: Frederickdamasus@gmail.com, frederick@ccdsngo.org, fweddykent@gmail.com
Twitter: @el_krypto Instagram: el_krypto Facebook: www.facebook.com/freddysmultiverse
The following two tabs change content below.
Frederick Damasus is a tech enthusiast and blogger who has a passion for creativity and innovation. He is a self-taught graphic designer and currently delving into web design and development. He loves photography and volunteers his spare time to inspire children in orphanages through dance. He is a trained Petroleum Engineer but found himself in the AID/Development sector. He currently serves as the M&E/ICT Manager at the Center for Creative Development Strategies, an NGO based in Port Harcourt, Rivers State, Nigeria.
Latest posts by Frederick Damasus (see all)